Description:
Sing, Choirs of Angels!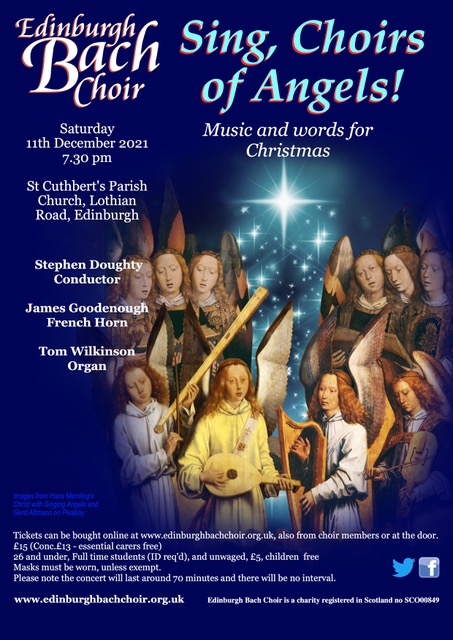 Traditional arr. M Wilberg - Ding, dong, merrily on high
A. Oldham - Quem vidistis pastores
Traditional arr. R. Vaughan Williams - Wassail Song
A. Mosakowski - Resonet in laudibus
R. Rodney Bennett - Lullay mine liking
G. Holst - Christmas Day
JS Bach - Gloria (Mass in B minor & Cantata 191)
Saint Saens / S. Hermann - Gloria in excelsis Deo
S. Beamish - In the stillness
Traditional arr. P. Halley - Good King Wenceslas

Covid Precautions
EBC will collect at least one name and phone number per group of tickets sold. This is essential for Test and Protect purposes.
There will be spaced out tables with sign in sheets for audience members on arrival at the venue.
Audience members do not have to socially distance but must wear masks unless exempt.
The audience will be seated in the gallery and towards the back of the church.