Description:
Bach, Beethoven, Brahms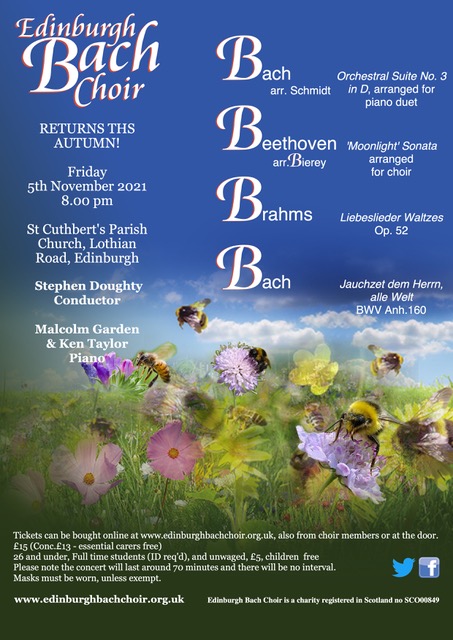 Johann Sebastian Bach – Orchestral Suite No 3 (arranged for piano duet)
Ludwig van Beethoven (arranged Bierey) - 'Moonlight' Sonata arranged for choir
Johannes Brahms - Liebeslieder Waltzes
Johann Sebastian Bach – Jauchzet dem Herrn alle Welt (BWV Anh 160)
Johannes Brahms - Ein deutsches Requiem extract
Johann Sebastian Bach – Jesu, Joy of Man's Desiring

Covid Precautions
EBC will collect at least one name and phone number per group of tickets sold. This is essential for Test and Protect purposes.
There will be spaced out tables with sign in sheets for audience members on arrival at the venue.
Audience members do not have to socially distance but must wear masks unless exempt.
The audience will be seated in the gallery and towards the back of the church.